I want you to look at these pictures, and tell me if you see anything wrong with them:
Anything wrong with this picture?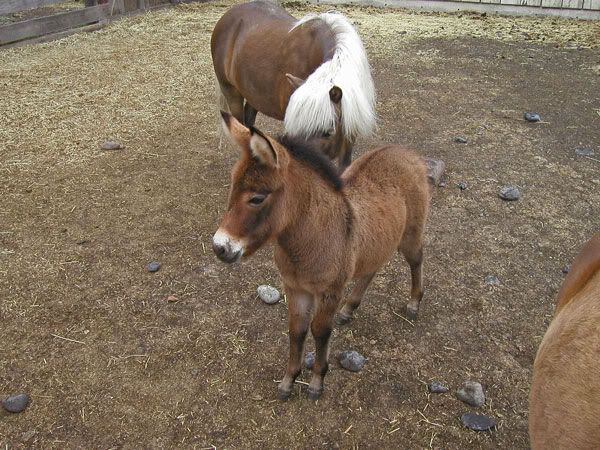 What about this?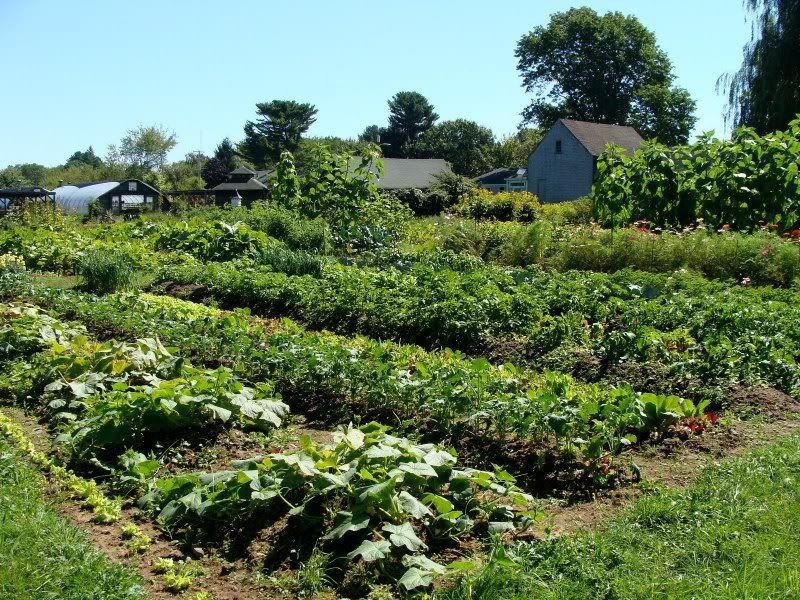 This?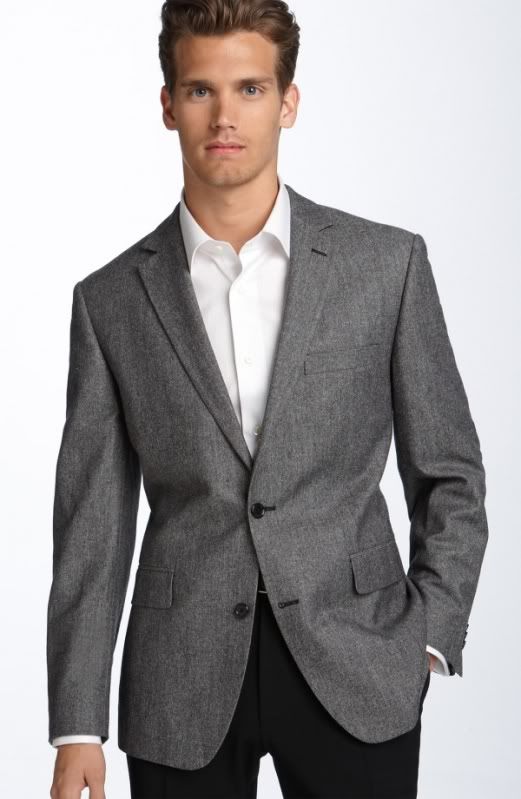 How about this?
Nothing wrong?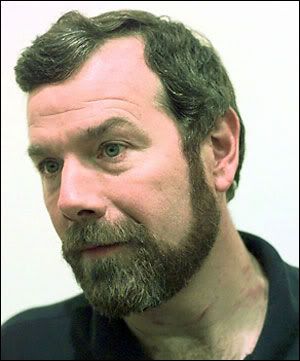 Is there anything wrong with this?
What about this lovely couple? Anything wrong?
Alright, that was part one.
[Part Two]
I want you to look at these pictures, and tell me if you see anything wrong with them:
Is there anything wrong with this?
What about this?
Again, you're done! Simple, yeah? Now, here comes the part that I'm looking forward to.
If you said, "No, nothing is wrong with the picture" to any of the things in part one, you're wrong.
Take the first image, for example. Two girls gossiping.
Thou shalt not go up and down as a talebearer among thy people: neither shalt thou stand against the blood of thy neighbour: I am the LORD. (Leviticus 19:16)
Don't gossip. Those bitches be gossiping.
Don't just stand by and do nothing if you notice gossiping.
Second, third, and fourth images. A mule, a vegetable garden, a man in a blazer.
Ye shall keep my statuses. Thou shalt not let thy cattle gender with a diverse kind: thou shalt not sow thy field with mingled seed: neither shall a garment mingled of linen and woollen come upon thee. (Leviticus 19:19)
Do not breed two different kinds of animals. Whoever bred that mule is heathen.
Do not plant different crops in the same field. Whoever sown that field is heathen.
Do not wear clothing made of mixed materials. That man may look fabulous, but he is heathen because that blazer is a wool/cotton blend.
Fifth, sixth, and seventh images. Steak, bearded man, cute couple.
Ye shall not eat anything with the blood: neither shall ye use enchantment, nor observe times. Ye shall not round the corners of your heads, neither shalt thou mar the corners of thy beard. Ye shall not make any cuttings in your flesh for the dead, nor print any marks upon you: I am the LORD. (Leviticus 19:26-28)
 Do not eat anything that is still bloody. That steak is very obviously rare. Rare means bloody. You are a sinner if you eat that delicious steak.
Do not trim your beard. That man's beard is far too neat. He trimmed it.
Do not get any tattoos. Happy couple or not, that bitch broke this rule.
Now, Part Two I included because of this (which many people against gay marriage love to quote):
Thou shalt not lie with mankind, as with womankind: it is an abomination. (Leviticus 18:22)
Let me point this out, as many people before me have:
Leviticus 18:22
Leviticus 18:22
Leviticus
Leviticus
 Well, lookie here. Leviticus. You know, the book that condemns homosexuality? Yeah, it's the same book that condemns your gossiping, your mixed breed animals, your multi-veggie garden, your clothes, your steak, your beard, and your tattoos.
This book also says that you shouldn't have sex with your close kin (18:6), you shouldn't offer sex to a woman on her period (18:19), that you should respect your parents (19:3), that you shall not steal, cheat, or lie (19:11), that you should not hold a man's wages overnight (19:13), that you should respect your elders (19:32), that you should not treat immigrants poorly (19:33), and that it's okay to own slaves, so long as they're from another country (25:44).
Furthermore, Leviticus goes on to explain that if you disrespect your parents, commit adultery, or indulge in beastiality, you must be put to death (20:9-10, 20:15).
Now that we have all of this information, let me break it down for you why it's complete and utter bull for anyone to be anti gay-marriage.
Let's start with Leviticus 18:6. If the Bible says having sex with those of close kin to you, explain this: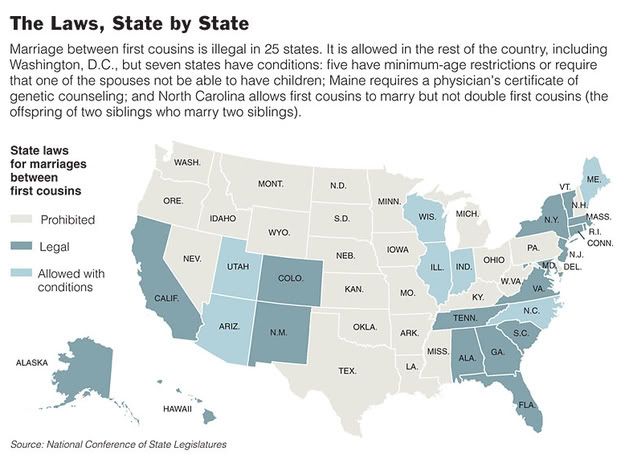 Please. Explain that to me. Why are there so many states that allow first-cousins to marry? Furthermore, in the text above the graphic, I'd like to point out: "five have minimum-age restrictions or require that one of the spouses not be able to have children."
So…for those of you using the reproduction standpoint for marriage; explain that.
Moving on.
Leviticus 18:19. Sex with women on their periods. You'll be filthy. Disgusting. Unclean.
Leviticus 19:3, 20:9. Respect your parents, or you shall be put to death. Raise your hand if you've ever rolled your eyes/been rebellious/groaned in annoyance/anything having to do with disrespect toward your parents. Oh? Guess what. You all should be shot. Dead. You need to be killed, because the Bible says so. Parents? Do you have a teenage daughter who rolls her eyes at you? She needs to be killed. Sorry.
Leviticus 19:11. No stealing, cheating, or lying. Shame on those kids who stole cookies from the cookie jar. Shame on those little kids who cheat in a board game. Shame on every single person who says "I'm fine" when they're miserable. You are disobeying the Bible, fiend.
Leviticus 19:13. No holding a man's wages from him. MY MANAGERS ARE SINNERS BECAUSE THEY DON'T GIVE ME MY MONEY AFTER I WORK A SHIFT. I have to wait a whole week before I get my pay for the previous week. That's bullshit. That's unholy right there, because the Bible says so.
Leviticus 19:32. Respect your elders. Shame on all those kids who make fun of old people. Fuck Hallmark for all those card making fun of elderly people, what with the hearing jokes, the fart jokes, the eyesight jokes. They're all sinners.
Leviticus 19:33. Don't mistreat immigrants. I'm looking right at you, Arizona. I'm also looking at all the people who say "Go back to your country" to Muslims, Africans, Chinese, Japanese, Mexicans, Russians, and any other race.
Leviticus 20:10. If you are an adulterer, you shall be put to death. Well, jeez. This is lame. Why am I not seeing 98% of the Republican party being stoned to death?
Leviticus 20:15. If you commit bestiality, you shall be put to death. Shaming the person is not enough. They need to die. And so does the animal he/she had sex with.
Leviticus 25:44. You can have slaves from other countries. Whoops. Sorry, Africans. But according to the Bible, I'm allowed to have you as a slave. So stop complaining because the Bible is LAW.
See how ridiculous that all is? Now, to quote NextYearsGirl:
The laws in the Old Testament were set forth by god as the rules the Hebrews needed to follow in order to be righteous, to atone for the sin of Adam and Eve and to be able to get into Heaven. That is also why they were required to make sacrifices, because it was part of the appeasement for Original Sin.

According to Christian theology, when Jesus came from Heaven, it was for the express purpose of sacrificing himself on the cross so that our sins may be forgiven. His sacrifice was supposed to be the ultimate act that would free us from the former laws and regulations and allow us to enter Heaven by acting in his image. That is why he said "it is finished" when he died on the cross. That is why Christians don't have to circumcise their sons (god's covenant with Jacob), that is why they don't have to perform animal sacrifice, or grow out their forelocks, or follow any of the other laws of Leviticus.
Meaning?
You don't have to follow any of these laws. Are some still practiced today? Yes! Just because you don't have to follow them, doesn't you mean you can't. I mean, I try my damn best to be respectful toward my parents and elders and to not lie; I don't mistreat immigrants, I don't cheat, I don't steal, I certainly don't have sex with close kin, nor am I an adulterer, nor do I have sex with animals.
So that also means (drumroll please);
A man is allowed to sleep with another man.
Holy shit.
Moving on to the whole "But marriage is a religious sanction!"
Mm, yes. The Bible does say that, doesn't it?
Welp, here are some facts for you. 
Marriages have been happening centuries before the Bible even appeared. It's been happening before there was even such a religion as Christianity.
Adding on to that, the Bible wasn't even written until around 30 years after Jesus's death. So the entire Old Testament? Yeah, that stuff is old. Really old. Old as balls. And it wasn't written down until way way way way way later.
The Ancient Greeks had gods. Gods = religious beliefs. The Greeks also supported homosexuality. Religious sanction of marriage? Yep, the Greeks allowed homosexuals to get married.
Atheists get married, too.
Therefore, I do not see it a being solely a religious sanction. You do not have a monopoly on marriage. You do not have a monopoly on my life.
Does it affect you when that straight, male construction worker gets married to his straight, female orthodontist? No.
Does it affect you when that straight male proposes to his highschool sweetheart girlfriend of 5 years? No.
Does it affect you when that lesbian at the coffee shop in New York proposes to her girlfriend? No.
So why aren't you allowing homosexuals to marry?
To protect the sanctity of marriage?
Divorce. Adultery. What about those who lost their virginity before wedlock?
Don't preach to me about the sanctity of marriage until all of that shit is cleared up. And don't you dare use Leviticus to back you up when that book is null and void.